RECREATIONAL PROJECTS
For the 1994 Commonwealth Games hosted in Victoria, British Columbia, MISRA ARCHITECT LTD. was charged with, along with the task of specific venue facility designs, the responsibility for all venue pageantry and space planning for the athletes' village.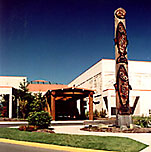 SAANICH COMMONWEALTH PLACE AQUATIC CENTRE.
As a major venue in the Games, this $19,000,000 facility was designed to Olympic standands, and served as one of the major venues of the games. It played host to swimminig, diving and synchronized events. As a lasting legacy to the community, it features a lap pool, leisure facilities, including wave pool, whirlpool & waterslide, as well as a library, gymnastics & fitness areas and community multi-purpose areas.


LAWN BOWLING CLUBHOUSE.
Built at a cost of $580,000, this facility served as the officiating centre for both the Lawn Bowling and Cycling events. It continues to serve the community as clubhouse and training centre for these activities.