INDUSTRIAL PROJECTS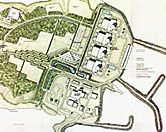 CANDU MEXICO for Atomic Energy of Canada Ltd.(STHIP)
This facility consisting of 4 nuclear driven 600MW generators was created in 1978 at a cost of $80 Billion. At the heart of the design philosophy was the need to reflect the heritage of Aztec themes in both architecture and landscape design.

CHANA PLACE, Surrey, BC.
This $20,000,000 warehouse development provides 2000,000 square feet of strata-titled space. This complex, constructed of pre-cast tilt up panels, is being built in four phases, the first completed in 1996, and the second currently under construction.